Fax cover sheet is used in all the different professions and people tend to use fax cover sheet template which reflects their profession in the fax as it sounds professional, impressive and attractive as well.
So if you belong to a bike shop, or related to sports goods business then this Dirt bike fax cover sheet can be a good option for your fax cover sheet. This dirt bike fax cover sheet template consists of an image of a person on a dirt bike popping a wheel. Such kinds of templates are suitable for the purpose of the sport.
Dirt Bike Fax Cover Sheet
The fax cover sheet template is in a standard format so if you are new and have no idea regarding the format then this template can help you in writing the fax cover sheet in a proper format. The templates help to save users time as a format is pre-specified on the template. So, the users have to only focus on typing correct details in the fax cover sheet.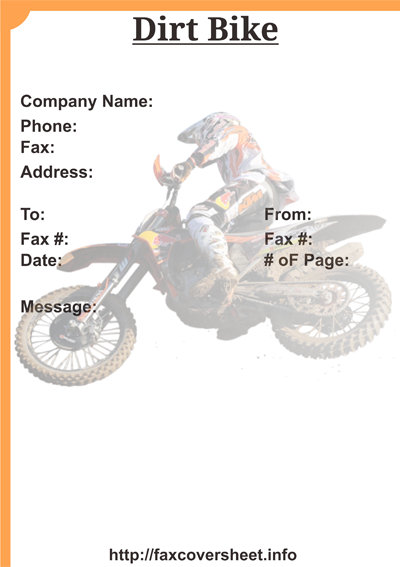 The template of the Dirt Bike fax cover sheet consists of title FAX in white font colour and background black colour along with the image. Below this title, there are the headings along with blank space for writing down details like:
Company name
Mailing Address
Phone
FAX
TO
FAX
DATE
PAGES
After these details, there is a heading of MESSAGE and then blank space for writing the message to the recipient. All these details should be written correctly and to the point as the message is advised to be written concisely.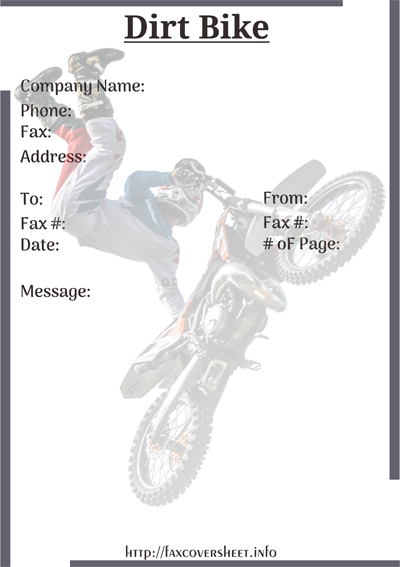 This template of dirt bike fax cover sheet is available to the users and no charges and money are required to pay to save or download the template. This template is beneficial from the time and money both the perspectives. The template you can download in Microsoft Word .doc format or in Adobe Acrobat Reader.PDF format as per your choice or requirement.
This template is editable as well. So, you can make the desired changes in the template and then save it again to use with the updated template. So, just click on the Download option and save this dirt bike fax cover sheet template in your device.