Movie Camera fax cover sheet template is a good option for the movie makers, theatre, or for cinema-related work. In the template of movie camera fax cover sheet, there is an image of a large movie camera on the top right corner next to the title FAX.
Movie Camera Fax Cover Sheet
This fax cover sheet reflects cinema related business or organization. So, if you are also part of this industry than this fax cover sheet of movie camera will be a suitable option for you. This fax cover sheet gives an impressive and professional look to the fax.
Now a day people end to use fax cover sheet template will reflect their work or highlights their organization also. So that recipient can come to know about the sender's professional upon looking at the fax. This kind of images helps to do so. This template of fax cover sheet you can get saved in your device without paying a single penny as this template is available in our site at free of cost.
The template is in the proper format so you do not need to worry about the format for writing a fax cover sheet also. The format of fax cover sheet includes title fax and image of movie maker next to the title. After this, there is a dotted box for writing details of sender and recipient that is TO, FAX #, Date, and FROM, FAX #, # of pages. And then another dotted box is here for writing the message including heading MESSAGE.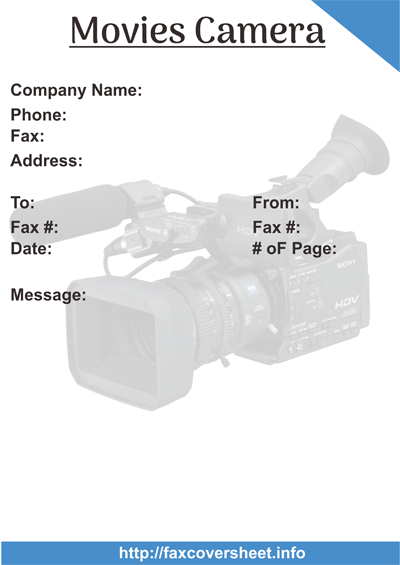 This template is you can get into your device by selecting a download option. The download option is available with two alternatives:
Microsoft Word.DOC FORMAT
ADOBE ACROBAT READER.PDF FORMAT
You can download the fax in any of these two formats. There is an option for editing as well. If you want to make some changes in the template then you can perform the editing very easily. After completing the editing click on the save option again.